Think about the things above and not things on earth. You died, and your life is hidden with Christ in God. When Christ, who is your life, is revealed, then you also will be revealed with him in glory. - Colossians 3:2-4
Let Your Light Shine!
---Angel---


| YouTube | Facebook | Twitter |
I track #ilovegodaboveall

I do a lot of random things but am proud of them because I think it makes me different. But I realize no matter how different I try to be, I'm still classified as a typical girl.

I am resourceful and I have the ability to do whatever it takes to succeed, and to support all those whom I love.

Though I am weak, I know my God is strong,

Philippians 4:13
"I can do all things through Him who gives me strength."


"I LOVE GOD ABOVE ALL!"..




This blog is totally dedicated to my Almighty Father God, the Most High.
All glory, honor and praises to His Name only.
God is my strength and my refuge and I am so not going to give up on my journey with Him.
He casts out all my fears and pains and leaves me out happy and delighted always.

If you ever need anything
and/or a prayer request,
don't hesitate to message me
in my ask | submit boxes...
I'll be much happier to pray for you.
I believe that our prayers will be heard.
For James 5:16 says
"Therefore, confess your sins
to each other and pray for each other
so that you may be healed.
The prayer of a righteous man
is powerful and effective."
Praise the Lord always and God Bless!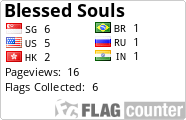 Links
WHAT THE BIBLE SAYS ABOUT . . .
ANSWERS FOR LIFE'S BIG QUESTIONS
Blogroll
LINK FOUR
LINK FIVE
LINK SIX
LINK SEVEN
LINK EIGHT
LINK NINE
LINK TEN
LINK ELEVEN
LINK TWELVE
LINK THIRTEEN
LINK FOURTEEN
LINK FIFTEEN
LINK SIXTEEN
LINK SEVENTEEN
LINK EIGHTEEN
LINK NINETEEN
LINK TWENTY